©Copyright 1997-2010
Johnson Kinetics, Inc.
All Rights Reserved

Pages best printed
in Landscape










VibroTactile Stimulation
VibroTactile Stimulation allows a person to feel a very wide range of sensations through pressure receptors in their skin and body. JKI has developed its VTS product capability to producing the many effects possible for a variety of applications. VTS drivers are capable of driving several different types of VibroTactor elements including Off-Center Motors, Buzzers, Coil-Based VibroTactile Elements, and RamTactor Elements.


This page features VibroTactile Stimulation (VTS) hardware and details specifications and options of JKI's family of custom built devices.

JKI Introduces the TacWave Line of Tactile Stimulator Drivers. TacWave includes both Vibro and Electro Tactile Systems.

If you would like General Information on Tactile Stimulation (Both ETS & VTS), please visit our Tactile Section.
TacWave VTS Drivers:

| | |
| --- | --- |
| A medium output configurations are shown to the right. Model 301A has 4-12 outputs in 4 groups of quick-connected cables. Several different Arrays can be connected at the same time provided their drive specifications are similar. Inputs for manual control, dual kill switches, internal/external grounds, operating mode inputs, and standard LED status indicators are standard. RF telemetry control is optional. | < vts.12.gif > |
| A high output configuration is shown to the right. Model 312C has 96 total outputs; 36 channels in three groups of quick-connect and 60 channels in three sets of DIN cables ( built specifically for high count vests or chairs ). Inputs for manual control, dual kill switches, internal/external grounds, dual operating mode inputs, self testing of status of cable indicators, and standard LED status indicators are standard. RF telemetry control is optional. | |
TacWave VTS Driver Special Features:
Manual, PC, Automated, Closed-Loop Control Options
Units use a dedicated pulse train / waveform generator and can synthesize any pattern through on-board or controlled means
Wide channel count ( minimum of 4 Ch ) in custom applications


All TacWave VTS Drivers Include:
| | |
| --- | --- |
| Fast Connect Connectors per Power Range | Grouped I/O Connectors |
| (2) Triple-Acting Kill Switches | Operating Mode Select |
| External Power Supply | High Impedance Communication |
| Isolation Buffered Outputs | 16 Embedded Patterns |
| Heat Dissipation Measures | Use and Care Manual |
| Front Panel Operation / Status LEDs | TSComm Protocol Description |
| Desktop / Rack Mount Enclosure | Dedicated Waveform Generation |
VTS Driver Options Include:

| | |
| --- | --- |
| Mapped Input Sensor Processors | Additional Embedded Patterns |
| Multi-Port I/O Connectors | Cascaded Operation |
| RF Telemetry / Control | Multi-Driver Synchronization |
| Reduced Function Controllers | Presentation / Carry Case |
VTS Driver Enclosure Specifications:

Number of Output Channels

Test Subject Responding to VTS

Power Output Per Tactor
Any Other Outputs (relays, open drain, timing, etc. )
Typical Array Outputs ( 4, 8, 12, 2x12, 48, etc. )
Alternative Inputs ( Sensors, Control, Digital, Serial, etc. )
Size / Weight Requirements ( if any )
Enclosure Type (Miniature, Metal, Plastic, Rack Mount etc.)
Typical Method Control ( PC, MCC, Handheld, Panel, etc.)
Any other Special Features ( High 'G', Waterproof, etc. )
VTS Elements and Arrays: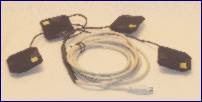 VTS Vibration Elements and subsequent arrays are built to order and include a variety of features for many applications. Three primary VibroTactor Elements are typically used. The off-center motor based elements, coil-based VibroTactors, and JKI's own long shaft based RamTactors each have different performance specifications, physical dimensions, maximum stimulation levels, power loading, and tactile effects.

Off-Center Motors.
Off-Set Motor Based Vibration Elements. These elements are fairly common due to advantages of lower cost, predictable repines and easy driving stages. Often referred to as 'Buzzer' units, Off-Set Motor based elements have only one dimension of output, increasing the voltage increases the tuns of the weight and the frequency and amplitude of the vibration. The response time is poor
Vibrotactors.
These standard VTS elements are coil based with an in-line magnet. Due to the fact that you are driving these directly, you have separate control of timing, response, amplitude, frequency, and pulse train. Each pulse is felt separately, allowing great resolution of sensation. These elements are capable of putting out a great deal of heat but are very robust.
RamTactors.
These long shaft variations on JKI's Vibrotactor elements are impact based, not vibration based. A magnetic core is accelerated towards the tactile end and energy propagated through whatever material there is to the user. A great advantage of RamTactors are the ability to be mounted in seats or similar structures where depth and heat generation is not an issue and you may need to get a sensation through thick layers of clothing or in frequency banks different that the ambient. This is especially important in heavy vibration environments. The maximum frequency is decreased in this mode, but still present in vibration mode.
VTS arrays require a bit more support than our ETS units. Weight, heat are issues to be addressed in each application. Choose from these configurations or specify your own according to your prospective mapping / applications including vests, forearm, soles, neck, finger, and others.

Support Accessories: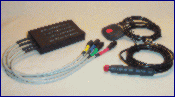 There are several accessories for VTS systems including various types of kill switches, stimulation pattern simulators, power mapped outputs, low frequency music synchronizers, and others.

VTS Array / Tactor Specifications:

Size and Range for Flexible Garment Based Arrays
Verify the Total Channel Number
Connectors (with respect to your Driver I/O)
Power Level
( Impact Level )
Temperature Tolerance - Threshold / Heat Dissipation Measures
Auto Detect of Heat Threshold
Cable Length / Strain Relief (if needed)
Tactor Shape, Area, depth
Tactor Element Impact / Weight (depth of penetration)
TacWave Controllers:
All TacWave, ETS, VTS, and LSAC systems can be controlled through the TSComm protocol. This protocol is built into our line of Manual Control Consoles (MCCs), Hand Controllers (HCs), and can be generated by a computer's serial or USB port.

| | |
| --- | --- |
| This Manual Control Console ( MCC ) unit was designed for test and experimentation, as shown to the right. It features isolated TSComm Syntax communications with a TacWave VTS Driver, multiple LED displaces and indicators, separate adjustment for three primary settings. The desktop unit also included a built in timer to control timed responses to experimental input. Kill Switch input from the wearer triggered time-out alarms and was a way to get hard time data from experiments. | |
MCC Special Features:
Timed self monitoring of the VTS driver to insure communications
Auto shutdown based on critical settings, responses, or kill switch activation
Buffering for PC Control/Response and Instrumentation Lines
Adaptable settings control for embedded pattern
Configuration control for various / multiple Tactor Arrays / Fixed Mount Inputs


//