©Copyright 1997-2010
Johnson Kinetics, Inc.
All Rights Reserved

Pages best printed
in Landscape
Product Development
The level of Product Development can be identified by:
1) Required Maturity
2) Performance Goals and Capability
3) Intended Audience
Once these questions are answered, you have a better sense as to what level of service you require. Several stage are described below. Please review our Engineering Services Section to learn how JKI may help you realize your goals.

Feasibility Analysis.
Typically, an engineering, production, and marketing review of the product, capability or goal. Although our aptitude is the engineering and production, we work with other companies to identify marketing potentials, cost and profitability analysis, perform focus groups and other critical stages of product development.
JKI will identify and conduct some basic tests to insure core product possibilities. Critical components, a review of cost implications, features, consumer or technical interest,

Proof-of-Concept.
Further. A proof-of-concept device is not necessarily a prototype, but can be. Half of POC builds are breadboard / brassboard fabrications with some semi-finished parts, but usually spread out over a bench top to evaluate and study each functional module. Many POC items can be computer simulated, compensated for, or designed in at the onset. In most applications, it is expected that some features may be left out or require refinement, physical elements or packaging may not be present.
There are several possibilities to what a Proof-of-concept device constitutes, all based on the expectation and intended audience. An simple of two interpretations of a POC effort are below.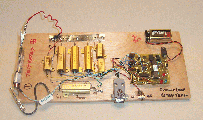 Case 1) In this example the goal was to build a test platform for analyzing battery performance at high loads. A time-dependant variable load was controlled by a microcontroller routine to analyze what batteries power efficiency in 120 seconds. Tests were selected by inputs to the microcontroller, voltage, power, and temperature data was collected and sent to a PC for storage, graphing and analysis. Here the platform could be considered a 'brassbound' or simply a 'test device' as its audience was test engineers and aesthetics were secondary.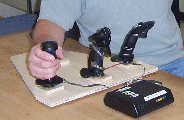 Case 2) In this example a fast turn-around requirement (3 days) was built to introduce a concept, suggest possible solutions, and generate discussions with engineering, intended users, and management. The goal then included a portable aesthetic, adaptable device with indicators, simple controls, and battery operation. This proof-of-concept device featured hardware, a quick (but not dirty) test setup, embedded software, and circuitry.

Prototype.
Building a 'prototype' can mean constructing any level of embodiment from Proof-of-Concept to Production models. Usually it means a pre-production unit where all desired features are implemented, the enclosure is close to a final. Obvious last steps including molding, miniaturized components, interfaces are the discretion of the project manager. The desired level of completion should be a primary specification. Generational labels are not as important as defined goals for the outcome.

Test Unit Prototypes.
In some cases, units may be built for testing and data collection. Such units may have built in telemetry or data logging capabilities to allow developers to monitor and track how the product is being used, to what level of performance, and in what environment. Test units put in the field for a short term can tell developers a great deal about the 'real world' to which their product is to be immersed. Test Units are often numbered Client feedback is also of paramount importance. A great deal of consideration, planning, ergonomics, etc. will be put in on the front end. It is important to review those goals during actual use.

Pre-Production.
In most cases, Pre-Production units are identical (or nearly so) to what you intend to mass produce including enclosures, features, communications, user interfaces, performance and power concerns. JKI does not provide mass production services, but can transition you from prototype to establishing final and polished building blocks of a device.

Costing.
The universal concern for a new project. It is important to identify companies whose products or past contract engineering services are close to the market, application, or performance characteristics of your intended device.

The goal of your program, the phase of development, maturity, interface packaging and other items may dictate what kind of product to build. Our Engineering Services details our areas of expertise. Contact us today.

//