©Copyright 1997-2010
Johnson Kinetics, Inc.
All Rights Reserved

Pages best printed
in Landscape
Industrial Instrumentation
JKI provides complete and modular solutions to tough measurement and control application challenges. We employ both off-the-shelf and custom techniques to find and satisfy the most demanding of specifications. Major aspects of instrumentation are presented below.

| | | |
| --- | --- | --- |
| High speed manikin impact measurement. JKI developed magnetic goniometers for metal mounting to measure impact and airbag responses in manikins at 12000Hz. | | Extreme environment 8 Ch. temperature measurement with coded RF telemetry and Re-Creation of analog signals, read into a computer by the client's existing DAC system. |
| | | |
| Remote process status monitor/controller with threshold alarms and external auto-stop control with embedded event recording. | | Launcher barrel mounted instrumented projectile controller with Auto-ID, telemetry, barrel mounted functions control Data Package |
| | | |

Sensors and Measurement.

Almost any off-the-shelf sensor module can be integrated into a measurement system. In these case where a measurement is needed, JKI has often developed custom solutions and sensors for specific cases. Common sensors used in our systems include:

| | | | |
| --- | --- | --- | --- |
| Force | Temperature | Displacement | Acceleration/'G' |
| Strain | Rotation | Contact | Vibration |
| Pressure | Frequency | Inclination | Control Inputs |
We may also be able to tap into existing data lines, and extract or insert signals.

Signal Processing.
Often sensory level signals are very small, non-linear, noisy, and have poor characteristics. JKI commonly implements gain, filter, offset, linear mapping, F/V conversion, and other signal processing stages to extract the best information possible given the signal present. In many cases, local pre-amplifier stages reduce excitation noise. Several common stages will soon be available individually in our CyMods (Circuitry Modules) line, described at the end of this section.

Embedded Devices.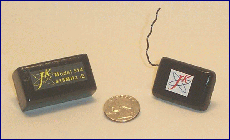 For stand-alone applications, JKI has build many types of custom enclosures, potted modules, or just cores (tested circuitry to be installed in clients products). Our custom instrumentation devices are designed and built to your specifications and performance standards. Devices can be the remote extensions of local data collection hubs, or stand alone units. Waterproof sealed units can be operated via magnetic pulse and the use of docking stations.

Data Communication.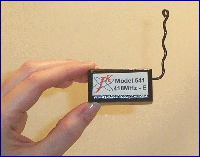 JKI implements optical, magnetic, and many choices of RF telemetry. We use standard, coded, noise reducing, and other protocols depending on your application. JKI also developed its own error avoiding coded non-standard syntax which helps verify data readings. Optical and magnetic methods are good for short range applications, where we use RF methods in several bands that go from 30ft to 10+miles. Higher power units will draw more current.

Data Logging.
Embedded data logging and threshold revues are often used to measure store data in remote, traveling, or non-networked applications. Nonvolatile memory and data buffering can be time stamped, and can also be review according to thresholds to trigger alarms. Apply our years of R+D in energy efficient units, some of our embedded units are still working after 3 years. Data logging can also be accompanied by periodic downloading to permanent storage. Magnetic, optical, or push-button triggers allow memory to be periodically cleared out. Auto-ID and RFID techniques often allow triggering and downloading of proximal data to be automatic.

Sensory Re-Creation.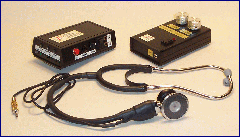 Often, once signals are digitized at the source, they are directly sent to a computer for storage and graphing. In other cases, signals coming from transmitter (sensory) modules are either digitized or similarly modulated for communications purposes and it is desirable to convert the signal back into analog voltages/currents. Sensory Re-Creation produces analog signals which are often brought into a clients existing DAS system. Analog signals re-created at the receiver may be zeroed, scaled, mapped, displayed on local panels, applied to thresholds or alarms, and many other applications without involving the computer. The image shows a cardiac digitally recording stethoscope where signals are output as line audio which was read directly by a PC sound card and uploaded to the internet for review.

Process Control.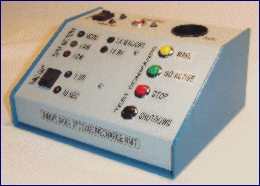 In many cases, sensory inputs are just the beginning of more complex process. Calibrated signals can be used to present highlights to operators. Via analog and/or digital means, 'virtual operator' stations insure your process runs smoothly. Especially in the case where stations are remote and utilizing a dedicated computer is impractile. Our process control stations can also be redundant local nodes of computer controlled network operations.

Large Scale Array Controller.
In the case where you need synchronous control and remote pattern generation of a large number of outputs, JKI introduces the Large Scale Array Controller. The same protocol and driver architecture utilized by JKI's ElectroTactor and VibroTactile Stimulation systems is applied here to .
Each synchronous pattern generator core handles 128 channels per channel band. LSACs are available in 1 to 128 channel bands, or a maximum total of 16384 channels. Communications and control can be direct connect, RS/RF232, or other methods. The syntax is TSComm. TSCom can be generated by our Manual Control Consoles, Embedded Control Consoles, or implemented by computer interface.
Achieve synchronous control of high numbers of lights, rockets, pyrotechnics, vibration units, motors, devices, etc. Output patterns can be controlled by our host or by the embedded patterns within the driver enclosure. Create dynamic pulse trains, coordinated effects, timed routines, and more.
Standard Outputs:
Contact Closures (relays)
Open Drains in +5v - 24V
AC Sound / Magnetic Field Drivers
Push-Pull of stepper motors and other Bipolar units.

CyMods.
Coming soon from JKI are these discrete instrumentation building blocks. CyMods (circuitry Modules) are stand alone signal process, data acquisition, communications, and similar instrumentation based products. How often have you spend a fortune on new DAS equipment just to boost a signal, apply a bit of filtering, offset, zeroing, data communication modulation/demodulation, etc. JKI offers a handy and simple method what can be allied to new and old equipment.
Need discrete digital waveform generation, digital function generation, sequenced pulse trains, etc?? CyMods are coming soon. CyMods.com, by JKI

//