©Copyright 1997-2010
Johnson Kinetics, Inc.
All Rights Reserved

Pages best printed
in Landscape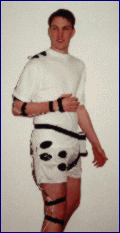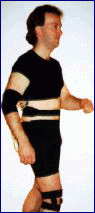 Human Instrumentation
Solutions to Wearable Instrumentation
JKI's research in the area of physiological monitoring and wearable instrumentation have lead to both standard products and a modular approach to systems and devices allowing a great deal of flexibility to custom instrumentation requirements and a straightforward pathway to device development. Integrated Sensor Systems that you car wear. Also, we have developed method for stick-on sensor systems, dedicated physiological sensor data loggers, and similar devices.


Applications:

Garment Mounting
Our R&D efforts have lead to overcoming many common challenges of wearable measurement such as Sizing, Human Factors, Garmenting, Sterilization, Washing, Extreme Use, and Range-Of-Motion Limitations. Depending on each application, the best mounting methods are used from whole body garments, garment segments, strap-ons, stick-ons, or inner-pocked. Several fabrics, glues, panels, adjustment methods, and fasteners have been used over numerous variations.

Glove Based Mounting
The hand has a plethora of sensory information and is in direct contact with even more, it is a natural desire in many applications to mount sensory elements on a glove. We have provided numerous glove-based and glove segments projects and for ergonomics, remote monitoring, point-and-sample, and personal-probe applications. We use our owe strap templates, or an Isotoner base.

Molding and Encased Enclosures
In harsh environments such as high humidity, underwater, high temperatures, or dirty environments, open enclosures are not recommended. JKI has been encapsulating, molding, or potting devices for such applications. Devices have full operation and can include buttons, displays, IR communications channels,

Helmet Systems

JKI has years of work in the areas of precision head tracking and Helmet displacement monitoring. Our Proprietary Magnetic and Optical Sensing techniques allow high resolution, noise immunity measurement of various head / helmet parameters. One of our earliest patents was based on adaptive helmet liners to prevent slipping and discoupling of tracking devices.

Shoe / Foot Mounted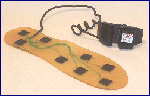 JKI's "Running Mate" devices are high speed force and temperature measurement for gait and running analysis. Portable measuring and data logging devices allow analysis in actual use conditions. In this example, we utilize a molded an instrumented sole with ankle worn signal processing and data logging module.

Sensors:
Goniometers
The core of JKI's development of human based instrumentation is our line of magnetic range of motion Goniometers. These devices have been developed for many applications including 1D, 2D, and 3D response to distance, angle, flexion, twisting, and other motions. Many studies of range-of-motion (ROM) indicate that motion alone can be used as limited exercise.

Physiological Sensors
JKI has built numerous biosensor suites for various applications incorporating the following sensors into wearable garments, patches, implants, strap-on systems, vehicle mounted, submerged, extreme environment, We built our own sensors as well as integrated off-the-shelf units to our products. Common Physiological sensors include:

Pulse via ElectroCardiograph
Pulse via IR Pulse Wave
Respiration
Body Position
Motion Tracking
Body Sounds
Galvanic Skin Response (GSR)

Core Temperature
External Temperature
Orientation
Electromyographs (EMGs)
ROM Quiver
Accumulated Induced Treppe
Time Exposure at Level (Dosimetry)

Related and External Sensors
Sensors that are typically external to the human body but provide additional critical information can be integrated into systems and devices. Common inputs include:

Orientation
Gravity 'G' Force
Impact Force
Load Cell / FSR Force
Time ( Event Synched and Duration)

Pressure / Distribution
Electromagnetic Noise Exposure
Acoustic Noise Exposure
Luminous Intensity
Vibration / Shock
Most off-the-shelf sensors can be incorporated to our products.

Custom Sensors
JKI has developed several magnetic, optical, thermal, ultrasonic, and resistive sensors for various applications where an off-the-shelf solution can't be found. See our Custom Sensors Section for details.

Methods:

Platform Based Architecture
Why A Platform? JKI sells systems and devices based on a modular approach to functions and features. Several standards were developed allowing sensors of various types, number, and complexity to be integrated in various ways into a single system with options like data logging, RF telemetry. This allows new applications to be assembled from existing circuitry, hardware and software parts saving the time and expense of redesigning for every variation.

Systems and Devices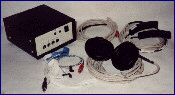 Systems are collections of platform modules based on an expandable architecture allowing numerous features and options. A trademark of a Systems approach is a moderately large number of channels and a variety of sensor types. An example is our ergonomically oriented human performance monitoring suits built with 32 channels incorporating joint motion, foot pressure, Pulse, O2, External/Core/Shoe Temp, EMG activity, Blink recording, and GSR.
Devices are those units that are intended for moderate production where Platform based schematics are redesigned for a product oriented application, using as many conventions of the platform as necessary. Appropriate for fleet items, multiple experimental units, or similar number requirements. An example of a device is a unit where 50 units were needed to monitor diver physiological parameters such as EMG exertion, external/core temp, and pressure (depth). This device used a water-proof molded enclosure, IR communication, 24 hours data logging, with magnetically rechargeable batteries. The platform contributions allowed a relatively fast turn-around but maintained minimal enclosure size, power consumption, and weight.

Custom Developments
The mainstay of our engineering service activities is catering our platform to clients needs in small and large numbers. Many variations in scope, application, performance, and special requirements can be accommodated. Contact Us today to discuss your application.

Performance Parameters
The scope and requirements of a system often include specifications placed upon them by the application or nature of the sensor itself. Typical performance characteristics used in the development of system specification include: Size, Weight, Power Consumption, Battery Life, Ruggidization, G-Shock, Operating Temperature, Sampling Rate, Sampling Resolution, Signal Filtering Properties, Smart Processing, Data Logging Endurance, Data Download Speed, Telemetry Medium and Range, and Dive-Depth to name a few. We look forward to discussing your specific requirements and needs. Our quoting process allows for you to look at cost benefits to help you select what performance parameters is appropriate for your situation.


//