©Copyright 1997-2010
Johnson Kinetics, Inc.
All Rights Reserved

Pages best printed
in Landscape
ElectroStimulation Research and Products

Electrostimulation ( or Electronic Nerve Stimulation ) is the process of using electrical waveforms to create a variety of sensations on the skin and in surrounding tissue. It is the fundamental science behind TENS, nerve stimulation, electrotactile, Functional Nerve Stimulators (FES), Neuro-Muscular Disrupters and other fields.
JKI maintains an active R&D program in Electro-Stimulation for biofeedback, pain alleviation, and ElectroTactile Stimulation. We provide custom devices, experimental systems, test-bed platforms, incorporation of technologies for third-party products / research, and perform on-going clinical developments.

---
Current Research
JKI has over 8 years research in Electro-Stimulation. Our research efforts and programs are in cooperation with the Air Force Research Laboratory, Wright-Patterson AFB, OH and the Dayton VA Hospital. These efforts have lead to new theories of Electronic Pain Alleviation, subsequent products and development efforts. Our work is both empirical and product oriented as several technologies have been successfully integrated into medical, commercial, and experimental, and stand-alone products.
---
TENS / PES Products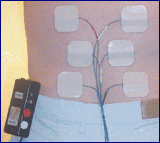 Traditional TENS (Transcutaneous Electric Nerve Stimulators) devices are only good for 50% of the population and become accommodated typically within two hours of use. The users are forced to play with settings and gradually increase the amplitude. Often bothered by muscle stimulation and secondary pain. Our research into heavy user chronic pain alleviation focused on three product development goals:
Increased Intensity--More power transfer in helpful and safe ways without wasting battery life
Anti-Accomodation Measures--Longer effective relief over time and across settings and users
Fewer Side-Effects--Decreased muscle stimulation, induced 'pin-pricks' sensation or heat built up.
The result is a series of improved technologies and methodologies culminating in our PES (Polarizing Electronic Stimulator) series of High Power Units ( PES-I, Mega-PES ) built for moderate and heavy use for both chronic and acute pain. Applying numerous next technologies in one unit allows a wide range of features which has shown increased results in patient populations in clinical trials.

JKI Currently provides Custom PES, Mega-PES, and similar units to clients and is seeking partnerships the technology to carry forward to larger markets.
One of the advantages of Mega-PES devices is the number of electrodes and functional combinations of arrangements depending on the user's needs. We provide 4, 6, and 8 channel outputs that all work together to provide the widest available stimulation patterns. Electro-Stimulation for directed application has many advantages as it can be focused to pain or injury sites.
---
Technologies
Years of research has produced a variety of proprietary technologies and methods that are vast improvements over current techniques. Many of these are incorporated into current products and /or available for license. Some of these proprietary developments include:
Tri-Polar Electrode Driver Stage
Spatial, Temporal, Impedance, and Sensation Randomness Patterns
Proprietary Waveform and Discrete Waveform Shaping
Pulsed Power Conversion
Impedance Matched Stimulation
Active Accommodation Methods
Pain Profiling Matrix Analysis
---
E-Tactor Systems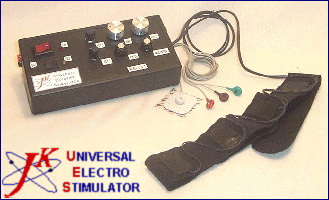 The opposite focus in applying gentile and soothing pulse trains are those that are designed to get your attention. Electro-Stimulation as a Tactile input offers numerous advantages are identified with our proprietary ETS Systems to traditional motor, heat, vibration, or pneumatic driven systems including less weight, higher concentrations of ETS Tactors, more versatile stimulation functions ( current pathway, amplitude, frequency, pulse duty cycle, waveform, etc. ). ETS systems operate a much higher speed to create complex sensations like wiggle, spin, race, wobble, radiating, direction and decay.
To foster internal research and external interest, we have built several working test platforms. The first prototype series, shown here, various models of Universal Electro-Stimulators have provided experimental and development data and response for numerous programs. The latest in ETS systems are detailed in our ElectroTactile Stimulation Section of this site.
---
Touch Mapping
A great substitute for heavily tasked visual or auditory inputs, tactile feedback is becoming more popular for a variety of applications to communicate information. Arrays of E-Tactor electrodes form grids, belts, or other garments which can be mapped to internal or external coordinate systems, vectors, or points of reference. Mapping can also be used for discrete functions warning systems, communication channels with appropriate placement.
---
Gait Correction Applications
Our RunningMate Line of devices measures and records distributed pressures in an instrumented shoe's insole. In addition to data collection, a closed loop scenario can be established linking pressure readings to E-Tactor output patterns. RunningMate instrumented insoles form a Center-of-Pressure indicator and means of correction for bad placements and gait patterns. Critical with persons with decreased nerve sensation or injury are the sensations felt by the feet. E-Tactor based balance devices augment this sensation and can also be tied to audible alarms as well as electro-tactile stimulation.

//